COOL BOOKS FOR A HOT SUMMER!!

CALLING HARRY POTTER FANS! CHECK THIS OUT!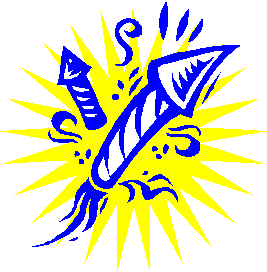 Are you sad because there's no new Harry Potter book this summer? Well, if you're in the mood for a story that'll last all summer long, check out His Dark Materials trilogy by Philip Pullman. It will satisfy your Harry Potter craving. This magical fantasy series is more than mighty!!! It all starts with The Golden Compass when Lyra, a girl from a magical and mystical world, saves her uncle from being poisoned. Then Lyra's best friend Roger is kidnapped. That soon pulls Lyra into an incredible, dangerous, web of adventure filled with daemons, witches, and talking polar bears! And through it all, Lyra hears people talking secretly of a mysterious substance called Dust. But what IS Dust? And why are some people so obsessed by it? Lyra must find out. Her search continues in The Subtle Knife and The Amber Spyglass where she travels beyond her own world to find out more about Dust. As her journey continues, a war bigger than any other war in history develops. Believe it or not, the future of the entire universe all depends on mighty Lyra! But can Lyra survive the destiny that awaits her? You'll just have to read the books to find out! If you're 10 years old or older, don't waste any more time, check out His Dark Materials series by Philip Pullman!! It's published by Knopf.

WHEN ZACHARY BEAVER CAME TO TOWN
It's summer in Antler, Texas. Toby and his buddy Cal hang out at the Bowl-A-Rama and drink Bahama-Mamas to cool down. It's just another boring summer, until Zachary Beaver comes to town. Zachary is not your ordinary kid. He's 643 pounds and he lives in a trailer! People pay two dollars admission to stare at Zachary! Toby and Cal are the first on line to see the weird 643 pound kid. After their first glimpse at Zachary they keep coming back. But Zachary is a real kid with real feelings, not a circus event. Plus hanging out with Zachary keeps Toby's mind off the fact that his mom isn't around and it helps Cal forget that his brother Wayne is fighting in the Vietnam War. When Zachary Beaver Came to Town by Kimberly Willis Holt is a hard book to explain, because it's not just about a fat kid. It's also about being any kid in any town. I mean if you ever had parents who confuse you, or if you ever had a fight with your best friend, or if you ever felt like no one understands you, then you will relate to this book. After I read it, I felt like I really met and knew Toby, Cal, and Zachary. Check it out if your 9 - 12 years old. It's published by Henry Holt.

ROCKAWAY BEACH IN THE SUMMER OF 1944


If you haven't read Lily's Crossing by Patricia Reilly Giff, you should! It will take you back in time, to the summer of 1944. Lily spends her summers in Rockaway Beach, New York. Rockaway was much different back in 1944 than it is now, especially because there was a war going on. Imagine if your dad suddenly went to Europe to fight in a war! This happens to Lily! Her dad leaves at the beginning of the summer to help the Europeans in World War II. Lily tries to enjoy sunny Rockaway Beach. She even tries to become friends with a new mysterious boy named Albert. Albert escaped from a Nazi occupied country called Hungary. However, the ocean is a constant reminder that her dad's not with her. How can Lily enjoy a carefree summer vacation, fishing and swimming when her dad is across the ocean facing death everyday? You'll have to read Lily's Crossing, published by Yearling Newbery to find out. It will definitely warm you up in the middle of winter, especially if you're 8 to 12 years old.

IS READING KILLING YOU?


Do you have a reading list at school? Do you want to throw the list in the garbage and go out and play? Fred, Sam, and Joe in the book, Summer Reading Is Killing Me, by Jon Scieszka refuse to even look at their Summer Reading List until the list attacks them - literally!!!! They are stuck in a crazy time warp where all the characters in every book you could possibly imagine are alive. The gigantic chicken in The Hoboken Chicken Emergency attacks them! Fred, Sam, and Joe also encounter Dracula, Frankenstein, Charlotte of Charlotte's Web, the Headless Horseman, and Peter Rabbit! You will never look at a Summer Reading List the same way again! Fred, Sam, and Joe call themselves the "Time Warp Trio" and if you like this adventure you should check out their other books all published by Viking.

THE FIRST WOMAN TO VOTE!!!
Riding Freedom, by Pam Munoz Ryan is about the real life of Charlotte Darkey Parkhurst who in 1868 was the first woman to ever vote in the United States! However, when she filled out her ballot, she was disguised as a man. Charlotte first posed as a boy at age 12 to escape a terrible orphanage. She quickly learned that the more she pretended to be a boy the more money she made, the more opportunities she was given, and the more respect she earned from everyone around her. Charlotte overcame many hardships, like losing sight in one eye, and became a legendary stage coach driver! This book is published by Scholastic and itís a must read for 8 - 12 year old action fans, history buffs, and horse lovers! Find out more information about Charlotte Darkey Parkhurst here!

DAVE AT NIGHT


How would you feel if you were suddenly left alone without any parents, brothers or sisters? Dave in Dave at Night has just become an orphan. His Aunts and Uncles do not want to adopt him. Dave winds up at the Hebrew Home for Boys or "Hell Hole for Brats", (thatís what all the kids call the place). The Home is cold and dreary. Dave has to sleep in a large room full of other 11-year-olds. The food in the cafeteria is horrible, but that doesnít bother Dave. Heíd just like a bite of the food before the older kids steal all of it! Heís in a terrible situation, but Dave has adventures by sneaking out of the orphanage into the wonderful world of Harlem in the 1920ís. New York City in this book is a lot different then the city you know today. I canít tell you more or Iíll give the whole story away. Let me just say that I wish you have buddies as great as the ones Dave has. The author is Gail Carson Levine (one of Mighty Lizís favorite writers) and the publisher is HarperCollins.

KID REVIEWS!!
Check out these reviews from other kids.
Read all the way to the bottom to see how you can win a cool prize!

HARRY POTTER # 4

Read Harry Potter and the Goblet of Fire by J.K. Rowling. I read it and it's really good. It's about Harry's Fourth Year. Two schools come to Hogwarts for a wizard contest. Andsomeone dies in the contest. by Mighty Robert from Minnesota
by Mighty Robert from Minnesota

THIS LITTLE PIGGY . . . .
I really like the book Charlotte's Web by E.B. White. It's about a pig named Wilbur who is going to get killed by farmers. Wilbur meets a spider named Charlotte and she says she will be Wilbur's friend and she will help him not get killed. Charlotte does many things to stop the farmers from killing Wilbur. From a rating from 1 to 10 I would give it a ten. You must read this book.
by Mighty Jonathon from Tiferes Yisroel

EVEN MORE HARRY POTTER!
I really like all the Harry Potter books by J.K. Rowling. I read each of them 3 times. On a 1-10 rating I give the Harry Potter books a perfect 10.

by Mighty Justine from P.S. 193

MIRAGE
I read this book called Mirage by Soheir Khashoggi. It was a realistic fiction. It is the engrossing story of Amira Badir (a.k.a Jenna Sorrel) a young girl from a wealthy and powerful family. Mirage takes you behind the veil of secrecy to expose the real lives of Islamic women in the Middle East. This book made me realize that I am lucky to live in the U.S! But it also made me realize that there are women suffering from oppressive men. I felt many emotions while reading this book.† I believe that my Aunt Tina would like to read this book.

by Mighty Jenee from Crawford

MATILDA
In the book Matilda, by Roald Dahl, a young girl tries to get away from her parents.† She meets a special teacher that she later starts living with.

by Mighty Brian from Crawford

STRIKE!
All-Star Fever by Matt Christopher is a good book.† I liked it because I play baseball to and making the all star team is really tough.† The story is about a kid named Bus Mercer, who is a shortstop for his baseball team the Peach Street Mudders.† When Bus finds out the all star team coach is at there game he trys to show of for them, but he ends up messing up and thinks that the all star team is never going to pick him.† I'm not gonna tell you more JUST READ IT.

by Mighty Patrick from Crawford

TOMMY BOY
The Adventures of Tom Sawyer by Mark Twain really isn't my type of book but I think it is a good book.† It does have a plot rivaled by all other books, which I really enjoy. Tom and his friends are pesky and annoying but I guess boys will be boys (or something like that).

by Mighty Colton from Crawford

OOEY-GOOEY CHOCOLATE!!
Check out Charlie and the Chocolate Factory by Roald Dahl. A young poor kid named Charlie won a prize to tour the famous chocolate factory. It changes his whole life!

by Mighty Michael from Crawford