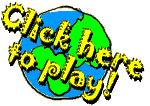 Ola Kids, wassup I'm Frank Perez, co-host of New York Kids radio show. Welcom to World Beat! If you don't know by now, I love music!
In World Beat you'll learn all about music from everywhere! Oh by the way, say Hi to my little friend "Sofrito." Keep checking World Beat we'll be adding lot's of fun stuff!

But for now, letís find out what YOU know about music. Sofrito will help you if you need it.
HEY KIDS! You need the RealPlayer to play World Beat! Click here now! If you did NOT hear David's dog bark, click here to install the Free RealPlayer.